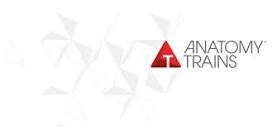 Anatomy ​Trains ​Structural ​Essentials: ​Fans ​of ​the ​Hip ​with ​Eli Thompson ​
18 ​CE
Friday, ​Saturday, ​November ​8, ​9: ​9 ​am ​– ​5 ​pm; ​Sunday, ​November ​10, ​2019: ​9 ​am ​– ​1 ​pm ​
$375 ​AMTA ​Member| ​$395 ​Non-Member ​by ​9/30/19| ​$445 ​All ​registrations ​after ​10/1/19
Fox ​Valley ​Technical ​College ​Appleton ​Main ​Campus ​
1825 ​N ​Bluemound ​Drive ​Appleton, ​Wl ​54914 ​
Fans ​of ​the ​Hip
The ​hip ​and ​pelvis ​combine ​to ​transfer ​the ​forces ​from ​two ​legs ​and ​into ​the ​one ​spine ​and ​therefore ​has ​a ​hugely ​complex ​role ​to ​fulfill ​in ​the ​body. ​Ida ​Rolf ​described ​the ​pelvis ​as ​'the ​joint ​that ​determines ​symmetry' ​and ​it ​is ​easy ​to ​see ​why. ​Differences ​between ​the ​hips ​can ​affect ​down ​into ​the ​legs ​or ​up ​through ​the ​spine. ​Achieving ​balance ​here ​can ​be ​essential ​for ​long ​lasting ​results ​in ​any ​therapy. ​This ​course ​sheds ​light ​on ​the ​pelvis ​– ​the ​keystone ​of ​human ​architecture ​– ​by ​organizing ​the ​20 ​or ​so ​muscles ​of ​the ​pelvis ​into ​three ​fans. ​Get ​specific ​with ​sensitivity.
Highlights ​include:
• Seeing ​how ​the ​soft ​tissue ​is ​arranged ​in ​an ​easy ​to ​understand ​pattern
• Using ​these ​fans ​to ​balance ​pelvic ​tilts ​and ​torsions
• Learning ​how ​to ​work ​accurately, ​effectively ​and ​sensitively ​with ​the ​adductors ​around ​the ​ischial ​ramus ​and ​deep ​lateral ​rotators, ​leading ​to ​the ​pelvic ​floor
• The ​psoas ​complex ​and ​the ​many ​variations ​on ​ideas ​of ​how ​it ​does ​(or ​does ​not) ​affect ​pelvic, ​low ​back ​and ​hip ​patterns
• Learn ​to ​balance ​the ​common ​rotational ​movements ​of ​the ​knee
Structural ​Essential ​series ​is ​a ​set ​of ​intensive ​soft-tissue ​technique ​courses ​divided ​into ​functional ​regions. ​Combining ​movement ​and ​manual ​techniques ​for ​the ​most ​efficient ​and ​long-lasting ​results ​and ​using ​the ​latest ​research ​on ​the ​interaction ​between ​skeleton, ​muscles, ​joints, ​and ​fascial ​proprioceptors, ​this ​series ​of ​workshops ​will ​take ​you ​to ​a ​new ​level ​in ​therapy.
Designed ​with ​the ​busy ​manual ​therapist ​in ​mind, ​each ​Structural ​Essentials ​event ​gives ​you ​a ​new ​understanding ​of ​the ​relevant ​area. ​The ​content ​will ​outline ​how ​the ​structural ​and ​functional ​anatomy ​relates ​to ​many ​common ​issues ​as ​well ​as ​to ​the ​rest ​of ​the ​body. ​Based ​on ​many ​new ​and ​established ​approaches ​this ​series ​will ​give ​you ​the ​skills ​in ​palpation, ​Body Reading ​and ​functional ​analysis ​needed ​for ​the ​modern ​multidisciplinary ​therapist.
Participant ​Materials: ​Massage ​Table, ​sheets/towels, ​Non-oily ​lotion, ​Specific ​Clothing: ​
During ​the ​practical ​portion ​of ​this ​workshop, ​participants ​will ​be ​asked ​to ​remove ​articles ​of ​clothing. ​
(The ​legs, ​abdomen ​and ​most ​of ​the ​back ​will ​be ​exposed ​for ​palpation ​and ​technique). ​Therefore, ​we ​ask ​that ​you ​dress ​appropriately ​for ​you ​and ​your ​fellow ​students ​to ​feel ​comfortable ​in ​the ​classroom. ​Suggestions: ​briefs/boxers ​for ​underwear, ​full ​coverage ​bra, ​or ​a ​2-piece ​swim ​suit ​work ​best ​but ​form ​fitting ​clothing ​such ​as ​running ​shorts, ​sports ​bra, ​tank ​top ​are ​adequate*. ​
*No ​one ​is ​compelled ​to ​disrobe ​beyond ​their ​comfort ​level.
PHONE ​REGISTRATION ​available: ​Call ​Casey ​Guilfoyle ​920-246-3474 ​for ​assistance.
HOTEL ​RESERVATIONS: ​Clarion ​Inn ​Appleton ​3033 ​W. ​College ​Avenue, ​Appleton, ​WI ​54914
Contact ​Clarion ​Inn ​Appleton ​directly ​at ​920-731-4141 ​to ​make ​reservations ​by ​October ​5, ​2019.
• Please ​request ​American ​Massage ​Therapy ​Association ​- ​Wisconsin ​Chapter ​to ​receive ​the ​group ​rate. ​
Queen ​$80.00/night. ​
• All ​guest ​room ​reservations ​are ​required ​to ​have ​one ​guest ​21 ​years ​of ​age ​or ​older ​occupying ​the ​room.
Eli Thompson He has been a Massage Therapist for almost two decades, graduating from the Muscular Therapy Institute of Cambridge, MA with a strong emphasis on anatomy, physiology, and pathology. He completed his certification in structural integration with Tom Myers at his Anatomy Trains Structural Integration School (ATSI) in 2003.

Eli became a Certified Teacher of Anatomy Trains in 2005 and travels throughout the US and South America giving lectures, teaching workshops, and mentoring teacher trainees. While not traveling he offers ATSI Structural Integration and Therapeutic Massage at the Boston Posture Center. He also designed and produces teaching tools known as 'Tensegri-teach' models, which show the importance of soft-tissue balance to clients and are sold through Anatomy Trains.
With a background in mechanical engineering, a history of Martial Arts, and a family of five, Eli is effectively able to weave complex scientific theories into the constant movement and humanity of life. He finds satisfaction in conveying to his students "the seamless wonder of our bodies, our minds, and our experience of life itself."
The ​Structural ​Essentials ​(SE) ​workshops ​are ​most ​easily ​absorbed ​in ​the ​order ​outlined ​below ​but ​you ​can ​do ​them ​in ​any ​order ​as ​time ​permits.
Arches ​and ​the ​Legs ​– ​3 ​days
Fans ​of ​the ​Hip ​– ​2 ​½ ​days
Abdomen, ​Chest ​and ​Breath ​– ​2 ​½ ​days
Tensegrity ​Spine ​– ​2 ​days
Shoulders ​& ​Arms ​– ​2 ​days
Head, ​Neck ​& ​Jaw ​– ​2 ​days
Note: ​It ​is ​not ​required, ​but ​strongly ​recommended ​taking ​the ​Anatomy ​Trains ​in ​Structure ​& ​Function ​course ​before ​taking ​the ​SE ​courses. ​Familiarity ​with ​the ​Anatomy ​Trains ​lines ​and ​concepts ​is ​key ​to ​getting ​the ​most ​from ​the ​program.
REFUNDS/CANCELLATION ​POLICY: ​Full ​refund, ​minus ​$30.00 ​administrative ​fee. ​
No ​refunds ​will ​be ​given ​for ​cancellations ​less ​than ​72 ​hours ​prior ​to ​the ​event.
ADA ​ASSISTANCE ​available ​upon ​request. ​
QUESTIONS, ​COMMENTS, ​CONCERNS: ​Contact ​Casey ​Guilfoyle, ​Education ​Chair ​(920)246-3474 ​caseyguilfoyle@gmail.com