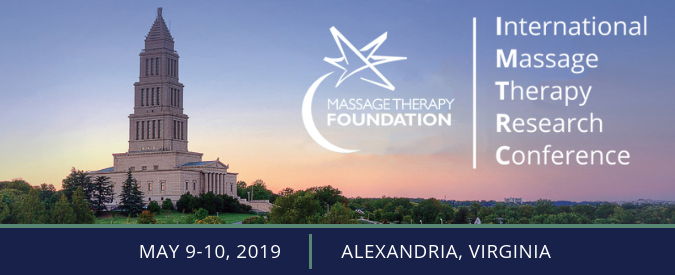 2019 International Massage Therapy Research Conference
Deadline Extended: IMTRC 2019 Call for Posters Click here to learn more
Registration for the 2019 International Massage Therapy Research Conference (IMTRC) is now open! Join thought leaders and learn about the latest massage therapy research at IMTRC 2019 on May 9-10, in Alexandria, Virginia (just outside Washington DC).
IMTRC provides an excellent opportunity to learn about the latest innovations while connecting with colleagues and researchers. Held every three years, IMTRC brings together an engaged community of thought leaders and educators to discuss massage therapy research.
Research is crucial to moving the profession forward. It inspires and educates massage therapists on how to apply the latest science when working with clients. Be a part of the conversation- register now!
Regular Registration $249 Available through March 1, 2019
Onsite Registration $249 Space permitting
The American Massage Therapy Association (AMTA)
is honored to be the presenting sponsor for IMTRC 2019
If you are located outside the continental U.S. or Canada, please contact imtrc@massagetherapyfoundation.org to register for IMTRC 2019.

The American Massage Therapy Association (AMTA)
is honored to be the presenting sponsor for IMTRC 2019