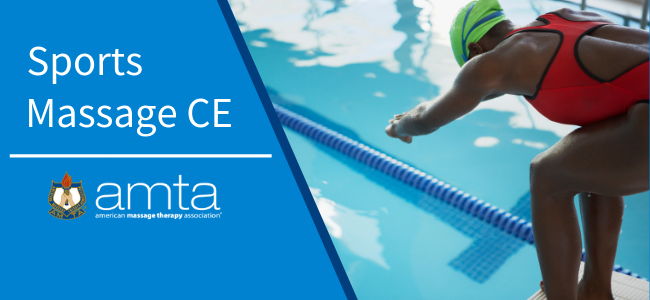 Popular Sports Massage CE Courses
AMTA Members Save Up to 40%
Sports Injury + Recovery
5 CE Credits
Take an in-depth look at how sports injuries occur, and which tissues are affected. Examine healing stages, and the appropriate massage techniques.
The Science of Athletics
4 CE Credits
Gain an understanding of sports science and how it serves athletes. This big picture perspective can help with intake interviews, answering questions and referring the athlete as needed.
Sports Ethics + Building Trust
2.5 CE Credits
Explore ethical considerations in sports massage. Learn about transference, countertransference, special confidentiality requirements and workplace challenges.
Upcoming Hands-On Sports Workshops
8.5 CE Credits
Learn hands-on techniques, contraindications, session planning and other valuable information to advance your sports massage career.
North Carolina: Saturday, September 9, 2019 with Jarrod Fritz
Indiana: Wednesday, October 23, 2019 with John Combe
Wisconsin: Saturday, November 9, 2019 with Jarrod Fritz